1. WEBINAR ON COPYRIGHT LEVY
BIPA, in collaboration with WIPO is organizing a Webinar on Copyright Levy to be held on 10 November 2022 at 14h30. The purpose of the webinar is to learn best practices and the rationale of copyright levies from other countries and also to discuss how Namibia plans to benchmark as it relates to the draft Copyright and Neighboring Right Bill.
To register for the webinar, click here: https://www.wipo.int/meetings/en/details.jsp?meeting_id=73508
2.  WORKSHOP: SUB-REGIONAL WORKSHOP ON THE HAGUE SYSTEM FOR STAKEHOLDERS IN   BOTSWANA, GHANA, NAMIBIA, RWANDA AND SAO TOME AND PRINCIPE
The World Intellectual Property Organization (WIPO) and the IP Offices of Botswana, Ghana, Namibia, Rwanda and Sao Tome and Principe are pleased to invite you to an online workshop on the Hague System.
This practical workshop will focus on:
the importance of industrial designs as business assets to be valued and protected.
the advantages of the Hague System for obtaining protection in multiple jurisdictions with on international application.
the value of learning from the experience of businesses that have already used the Hague System.
Join us next week Tuesday and Wednesday, 1st and 2nd November 2022 @ 09h00-13h00 for the workshop. For registration click on the link below:
https://wipo-int.zoom.us/webinar/register/WN_tbt7Rh6FToGA_4I-83IRpA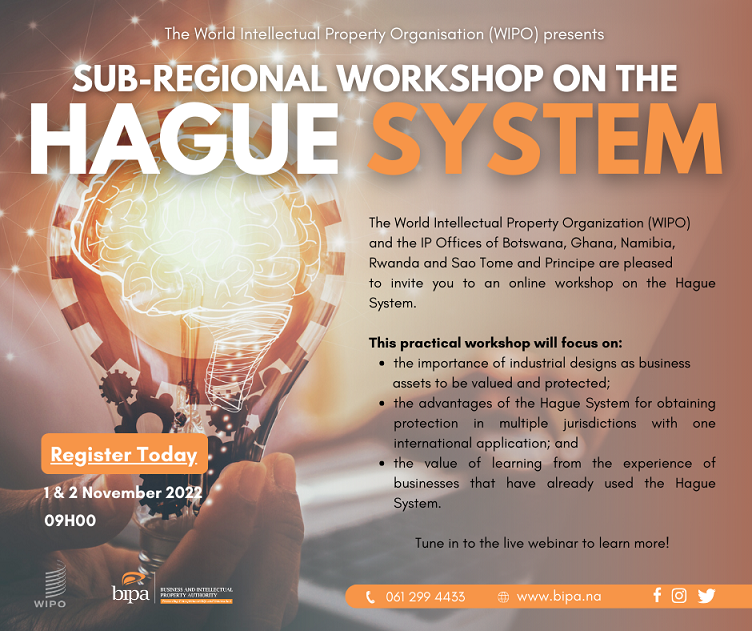 3.  WEBINAR:  BENEFITS OF THE HAGUE SYSTEM FOR DESIGNERS
The World Intellectual Property Organization (WIPO) in partnership with BIPA will be hosting a  webinar on the  22nd September 2021.  The webinar is on the "Benefits of the Hague system for designers".  The Hague System for the International Registration of Industrial Designs is the international application and registration procedure for designs.  The system offers a very attractive and efficient way of obtaining design protection in multiple states with the filing of just a single application.
Join us this coming Wednesday 22 September 2021 @ 10h00 – 12h00 for the webinar.  For registration click on the link below:
https://wipo-int.zoom.us/…/WN_UVmf8LoHRFCbP0gy5oErJA
4.  STAKEHOLDER CONFERENCE: DRAFT COPYRIGHT AND RELATED RIGHTS BILL
In line with its mandate to protect, promote and register intellectual property by creating a reputable intellectual property environment, the Business and Intellectual Property Authority (BIPA) will host an engaging stakeholder conference on the Draft Copyright and related Rights bill on 18 November 2021.
Registration
For physical participation, kindly RSVP by sending an email before 12 November 2021 at 17H00 to ip@bipa.na  with your name, organisation name, email and contact number.
For virtual participation please click on the link to register: https://teams.microsoft.com/registration/dAKpZWIOaEC0oJASGhincQ,zylP9bUjxEGYZKMWVEdkOA,aTODYOyqe0CQVyoXlaNLuA,lSK8YSBf8EC432ypdcr0fA,Wlox-N52N0OPnLn_P3vK-A,3iLaQbCxWESMPQWg2q3x-g?mode=read&tenantId=65a90274-0e62-4068-b4a0-90121a18a771