Introduction to the National Intellectual Property Policy & Strategy (NIPPS)
The National Intellectual Property Policy and Strategy (NIPPS), which was launched in 2019, was created to:
Promote the use of intellectual property;
Ensure the integration of intellectual property into Namibia's development strategies;
Provide guidance in strengthening the IP legal framework and;
Prevent the loss of valuable assets.
NIPPS further aims to ensure the adequate enforcement of intellectual property rights, increase IP awareness, strengthen the creative industry and promote the use of intellectual property in areas where Namibia has comparative and competitive advantages.
The policy provides a blueprint that creates a balance between the interests of creators and users through the protection of IP rights, safeguarding against market abuse, creating incentives for industrial innovation, encouraging research and development (R&D), and protecting all IP rights and the safeguarding of public interest.
Furthermore, the Policy establishes the framework conducive for innovation and competitiveness through IP generation, protection, and commercialization. It defines the parameters of using IP as a strategic catalyst to accelerate transformational growth at home.
Implementation of NIPPS
The Policy comprised of fourteen (14) objectives, Ninety-two strategies (92), 18 are short term, 29 are medium term, and 45 are long term.
The Business & Intellectual Property Authority (BIPA) is the implementation agency of the Policy.  It is tasked with ensuring policy coherence between the national IP Policy and national and sectoral development policies and integration of IP, monitoring and evaluating the impact of the IP Policy and Strategy, and developing a national position on issues related to intellectual property at bilateral and multilateral forums.
A Technical Committee comprising different entities representing the public and private sectors was established in 2021.  These entities represent the business sector, public enterprises, institutions of higher learning, legal fraternity, and Ministries and Government Agencies.
Sub-committees were further established according to the interests of these entities, which include:
Education & Research
Enforcement
Business
IP Law Development
Each sub-committees are assigned strategies and objectives speaking to their interests for implementation.
BIPA further established an internal Coordination Committee, which consists of managerial staff to oversee the Technical Committees work.
Introduction of Technical Committee Members:
Chairperson
Mr. Moses Molatendi Moses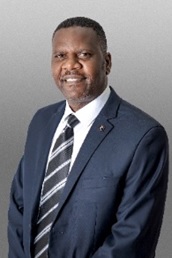 Mr. Moses is Manager: of Knowledge Management, Intellectual Property and Technology Transfer Division within the Research, Science, Technology and Innovation Coordination and Support (RSTICS) Department at the National Commission on Research, Science and Technology (NCRST).  He is responsible, among others, for identifying undocumented knowledge in and around Namibia's rural communities with the primary purpose of value addition, protection and management of same to derive intellectual property benefits.  He is also responsible for developing Intellectual Property and Technology Transfer Policy development and implementation to facilitate smooth coordination of research and R&D, ensuring practical technology transfer activities within public and private research institutions.
Mr. Moses holds a Master of Arts in Intellectual Property Studies from Africa University in Zimbabwe, Bachelor of Arts in Criminal Justice from the Namibia University of Science and Technology (NUST) and a Advance Diploma in Intellectual Property Law Specialization from the University of South Africa (UNISA).
Vice Chairperson
Dr. Anna Matros – Goroses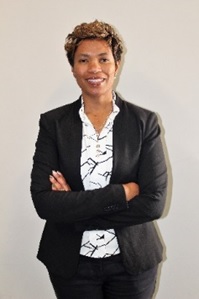 Dr. Matros-Goreses is the Executive Director: Directorate of Research, Innovation, and Partnerships – Namibia University of Science and Technology (NUST).  She has more than 17 years of professional experience in management and leadership positions.  Academically, she has obtained a Ph.D. in Economic regulation of water management from Cranfield University (England), which sets the basis for her skills in the evaluation and assessment of various regulatory and investment tools, mechanisms, systems, and processes, in particular, those of Namibia, England, Ghana, Tanzania, and Zambia.  Her area of expertise includes Water Sciences; Integrated Water Resource Research and Management, Policy Review and Analysis; Water Financing and Economics; Eco-systems valuation and development, Global (Climate) Change related research, and management issues.  She was, until February 2022, the Director of the Projects Services Unit (PSU) at the Namibia University of Science and Technology, managing external donor-funded research (multi (trans)-disciplinary) and capacity development projects.  The overall mission of the PSU is to promote, support, and facilitate project design and implementation to enhance multi/inter-disciplinary research capacity, innovation, and development in all applied science and technology fields.  Her role is expanded as the Executive Director to lead the establishment of the Technology Transfer Office, Entrepreneurial Hub, and Post-Graduate Studies Development, with an emphasis on intellectual property for innovation and economic development.
Members:
Mr. Salomo Haidula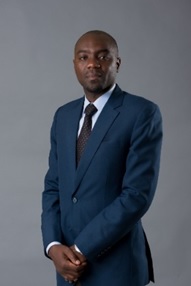 Mr. Haidula is the Deputy Director: of Consumer Protection and Internal Market Regulation at the Ministry of Industrialization and Trade.  Prior to joining the Ministry, he was the Personal Assistant of the National Youth Service Commissioner (CEO).  He worked briefly in the Namibian Police Force under the Internal Investigation Directorate, holding the rank of Inspector.  He holds a B-Juris degree, LLB Honors, and a Diploma in Local Government from the University of Namibia.  He is currently enrolled with the Justice Training Centre pursuing admission as a legal practitioner.
Mr. Zandré Duvenhage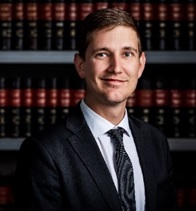 Mr. Duvenhage was admitted as an Attorney of the High Court of Namibia in 2019 and is currently a member of the South African Institute of Intellectual Property Law ("SAIIPL").
Ms. Ruusa Shipiki


Ms. Shipiki has over 20 years of experience as a Company Secretary and Legal Advisor specializing in the drafting and management of contracts and service level agreements; legal opinions and legal research; advising Boards and Executive Management on Good Corporate Governance and ethics; organizing, coordinating and managing company secretarial services including crafting minutes of the boards and its subcommittees.  Ms. Shipiki is an admitted legal practitioner with over 18 years of experience in the field of Constitutional and Contract Law, Commercial Law, and experience in Company Secretarial services.  Ms. Shipiki served on various Boards, including the Red Cross and Namibia National Organization of People Living with HIV and AIDS where she served in a non-remunerative capacity to strengthen and empower non-governmental organizations (NGOs).
Prof. Marius Hedimbi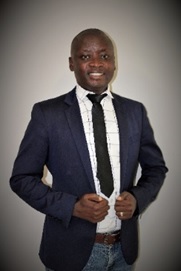 Prof. Hedimbi holds a Ph.D. degree in Microbiology, a Master of Science in Applied Biology, and a Bachelor of Science (Chemistry and Molecular and Physiological Biology).  He is currently a Full Professor at the International University of Management (IUM). He served in various administrative positions such as Director: Graduate School of Business (IUM), Coordinator: School of Postgraduate Studies (IUM), Director: Centre for Postgraduate Studies (UNAM), Vice-chairperson: Africa Inter-professional Education Network (AfrIPEN); Vice-chairperson: National Student Research Symposium (NSRS); Coordinator: Consortium of New Medical Schools in Southern Africa (CONSAMS).  He served in various committees and subcommittees both at national and international levels and has extensive exposure and collaborations with international universities.  He participated in various international linked collaborations, research, fundraising/grant writing, and publications.
Ms. Selma Fortunato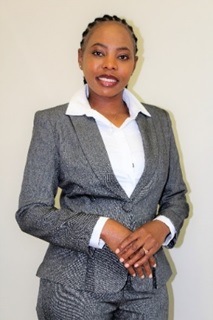 Ms. Fortunato is an Intellectual Property and Technology Transfer Coordinator at the University of Namibia (UNAM). She has a Master's degree in Intellectual Property (MIP) from Africa University (AU) in Zimbabwe and completed a Bachelor of Laws at the University of South Africa (UNISA).  Furthermore, Ms. Fortunato has obtained a Bachelor's Degree in Business Administration and a Diploma in Adult Education and Community Development from UNAM.  She has completed a course in Tools and Techniques for Performance Improvement at the Chartered Quality Institute in the United Kingdom.  Ms. Fortunato is currently enrolled with the Justice Training Centre pursuing admission as a legal practitioner.  She is a certified real estate agent in Principles of Real Estate by the Namibia Estate Agents Board and a certified trademark agent with the Business and Intellectual Property Authority (BIPA).  Ms. Fortunato has a keen interest in Intellectual Property, Law, Education, Information Science, Corporate governance, and Socio-economic development.
Mr. Sitwala Youngs Mapenzi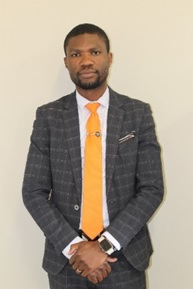 Mr. Mapenzi is a Manager: of Customs Scanner Coordination & Central Processing and Non-Intrusive Inspection (NII) at the Namibia Revenue Agency (NamRA). He possesses a Master Degree majored in Project Management from MANCOSA, South Africa, and a Bachelor Degree in Business Administration in Marketing from UNAM.  He has nine years of experience in customs risk management, anti-money laundering, and enforcement of counterfeit and piracy.  He is currently serving as a member of the national anti-counterfeiting taskforce and the African Regional Pharmaceutical Crime Working Group (ARPWG).
Ms. Namutenya Hamwaalwa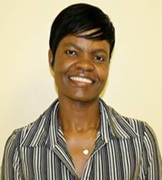 Ms. Hamwaalwa is a Deputy Director at the Ministry of Education, Arts, and Culture, Directorate of Namibia Library and Archives Service (NLAS).  She has 15 years of working experience in Information management (Libraries and Archives) and has a Master's Degree in Library Science, and a Degree in Library and Record Management.  Ms. Hamwaalwa has experience in strategic planning, development of policies, monitoring and evaluation of libraries and archives programs and services, analysis and compilation of national library statistics, and project management.  She is currently a Chairperson of the National Information Workers Association of Namibia (NIWAN).
Mr. Immanuel Sumo Udjombala-Bauleth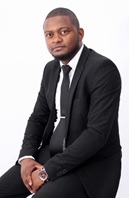 Mr. Udjombala-Bauleth is a judicial officer (Magistrate).  He is admitted as a legal practitioner of the High Court of Namibia.  He possesses vast experience in logistics and administration.  Mr. Udjombala-Bauleth currently holds a B-Juris Degree and LLB Degree from the University of Namibia (UNAM), a certificate from Oxford University in International Standards on Freedom of Expression; a Certificate in Proliferation Finance and is currently pursuing a Master's Degree in intellectual property law.
Ms. Justine Shipanga-Gcilishe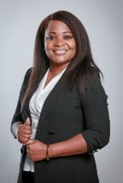 Ms. Shipanga-Gcilishe has extensive experience in consulting, investments, and fund administration.  Her track record spans over 15 years, having worked for various leading organizations in Namibia""s corporate financial services and investment industries.  Ms. Shipanga-Gcilishe is currently the Manager for Investor Services at the Namibia Investment Promotion Development Board (NIPDB). This role aims to promote the ease-of-doing business in Namibia by facilitating investor services and establishing an investor one stop centre.  She also represented the pension fund industry as Director at the Retirement Fund Institute of Namibia.  Ms. Shipanga-Gcilishe holds the following academic accreditations: a Bachelor of Economics degree, a Certificate in Investment Analysis and Portfolio Management, and a Postgraduate Diploma in Financial Planning.  She is accredited as a certified financial planner (CFP) through the Financial Planning Institute of Southern Africa (FPI); she also completed the Management Development Programme (MDP) through the Stellenbosch University – Executive Education and is currently pursuing the MBA Finance program.  As a CFP charter holder, she entirely ascribes to the FPI Code of Ethics and Professional Responsibility intended to promote ethical behavior and prevent unethical conduct
by its members.
Mr. Kauruumbua Koujo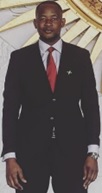 Mr. Koujo has experience in legal research, and policy analysis and implementation.  He worked in the Ministry of Justice, Directorate Law Reform, for almost 10 years.  He started as an undergraduate student intern and worked his way up to Senior Legal Researcher at the Law Reform and Development Commission (LRDC). Mr. Koujo also worked for the Electoral Commission, CENSUS Namibia, Labour Force Survey and the Human Rights Documentation Centre.  Mr Koujo has a Master's Degree in international and Chinese law, and has a B-Juris Degree and an LLB.  He recently resigned from Government and has started consulting on legal issues and business advisory services.  Mr Koujo also does international and environmental laws consultancy work.  Furthermore, he does estate planning and administration as well.  He is passionate about entrepreneurship and innovation as a gateway of community and social development.  Mr. Koujo started his entrepreneurial journey in 2015 when he co-founded an errand running and marketing company named Lotto Runners.  Since then he has cultivated an entrepreneurship mindset to problem solving and community development.  Mr Koujo is a member of the Windhoek Rotary Club and is enthusiastic about youth potential development.
Mr. Albinus Indongo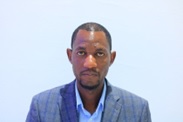 Mr. Indongo is the Chief Economist: Directorate of Planning and Technical Services at the Ministry of Environment, Forestry and Tourism.
He holds a Master's degree in Public Administration from the University of International Business and Economics, a Master's Degree in Economics from the University of South Africa (UNISA), a Bachelor of Administration Honours in Economics from the University of South Africa and a Bachelor of Technology Degree in Economics from the Namibian University of Science and Technology (NUST).
Ms. Hedwich Meyer


Ms. Meyer is the Chief Librarian at the National Library of Namibia.  She has sound knowledge and extensive experience in community development and outreach programmes.  She is currently serving on the Namibia Library and Information Council (NLIC), Customer Service Charter (CSC) Committee of the Ministry of Education, Arts & Culture.  She holds a National Diploma in Library and Information Studies from the University of South Africa (UNISA) and a Bachelor's Degree in Information Science also from UNISA.  She started her career as a relief teacher and worked her way up from a Library Assistant to a Senior Librarian and now the Chief Librarian.
Mr. Knowledge Ipinge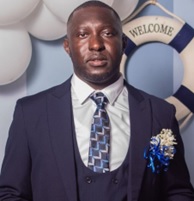 Mr Ipinge is a highly competent, capable and resourceful entrepreneur with good all round experience as a creative individual in the music, film, entertainment, event, branding and corporate industries over the past 12 years.  He currently serves as a Board Member of the Namibian Society of Composers and Authors of Music (NASCAM) where he has been instrumental on advising legislation on the new draft Copyright and Related Rights bill which is currently under development. As a seasoned creative individual, Mr. Ipinge is actively involved in the creation, performance, recording, promotion and management of the business of music. Some of his most notable artistic work includes conceptualizing and executing high quality music projects for renowned artists such as The Dogg, Musketeers, Cassper Nyovest, Don Laka, Flavour Nabania, Patoranking, Anthony Hamilton and Maxwell to fully exploit the benefits of their Intellectual Property. Mr Ipinge co-produced and co-directed a Multichoice Namibia commissioned documentary of His Worship the President Dr. Hage G. Geingob titled "Geingob: Man of the Hour" which was screened on Zambezi Magic (DSTV Channel 160) as a milestone of his inauguration as Namibia's third democratically elected president in 2015.
Mr. Alex Sikume


Mr. Sikume is a Deputy Director in the Ministry of Education, Arts and Culture within the Directorate of Planning and Development.  He deals with the coordination of development and review of strategic plans and medium term plans of the Ministry.  He also worked for the Ministry of Urban and Rural Development for 10 years as a Development Planner dealing with issues of local government operations, administration and management from 2002 – 2011.  Mr. Sikume worked for the United Nations Development Programme as a Programme Officer under the environment unit from 2011 -2013.  He also worked as a technical advisor under the Building Local Capacity Project for Southern Africa within the Management Sciences for Health which is an international NGO from 2013-2015.  He further worked for the Centre for Global Education and Experience for Southern Africa (Namibia) from 2017-2020, implementing a 'study abroad' program for Augsburg University based in the USA.  He worked as program coordinator and instructor for Political Science and Social Change.  Mr. Sikume holds a Master's Degree in Public Management majoring in Policy Analysis from the School of Public Policy and Management, Tsinghua University, China and a Bachelor of Arts Degree majoring in Political Science and Industrial Psychology from the University of Namibia.  He also taught at both the Namibia University of Science and Technology (NUST) and the University of Namibia (Unam) teaching courses such as 'Governance and Politics in Africa' and 'Disaster Risk Reduction' respectively.  Mr. Sikume also worked with the Namibia Business School of Unam of Namibia as a tutor for a work based project course.
Mr. Jeremia Haipinge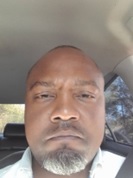 Mr. Haipinge is a Science & Technology Officer, working in the Directorate of Research and Innovation within the Ministry of Higher Education, Technology and Innovation (MHETI).